Frydenberg tells Australians, 'we have your back'
Written by

Michelle Grattan, Professorial Fellow, University of Canberra
Accelerated tax cuts, cash splashes for pensioners, massive incentives for business to invest and a subsidy to hire unemployed people are the centrepieces of the Morrison government's COVID-19 budget.
More than 11 million taxpayers will get a tax cut backdated to July 1, giving lower and middle-income earners tax relief this financial year of up to $2,745 and dual income families relief of up to $5,490, compared to their tax in 2017-18.
Australians on pensions and other eligible recipients will also receive a cash handout of $250 from December and another $250 from March next year.
Treasurer Josh Frydenberg said the Australia economy was "fighting back", with more than half of those who had lost their jobs now back at work. But "there remains a monumental task ahead," he said, assuring Australians "we have your back".
"The road to recovery will be hard — but there is hope," he said
A budget focused on creating jobs delivers multiple measures to boost business activity, and a new plan to subsidise hiring young people who are unemployed for up to a year.
Frydenberg said the Australian economy had been hit hard, but "we have a plan to rebuild our economy and to create jobs".
Massive deficit
The budget has a massive $213.7 billion deficit for this year. It will stay in the red throughout the budget period, with deficits totalling $480.5 billion over the next four years.
Net debt will reach $703 billion this financial year – more than 36% of GDP, rising to $966 billion (44% of GDP) by June 2024.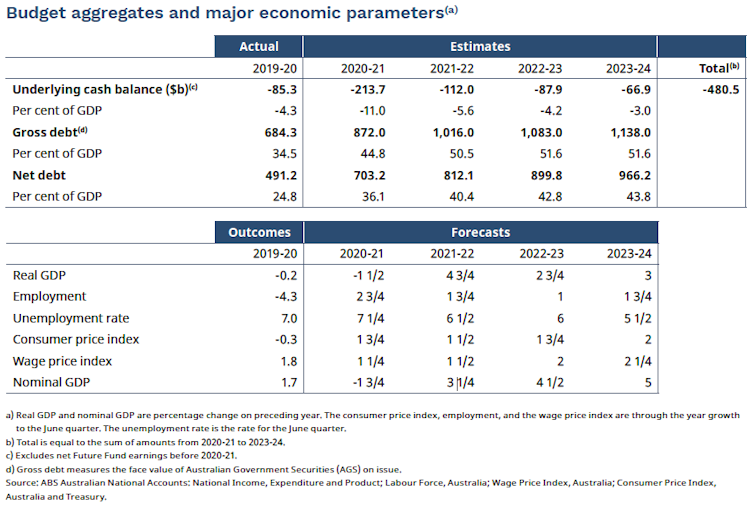 Authors: Michelle Grattan, Professorial Fellow, University of Canberra
Read more https://theconversation.com/budget-2020-frydenberg-tells-australians-we-have-your-back-147014