Economists award Chalmers top marks for budget, but less for fighting inflation
Written by

Peter Martin, Visiting Fellow, Crawford School of Public Policy, Australian National University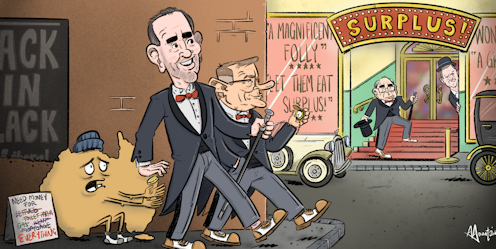 Asked to grade Jim Chalmers' second budget on his own criteria of delivering "relief, repair and restraint[1]", most of the 57 leading economists surveyed by the Economic Society of Australia and The Conversation give it top marks.
On a grading scale of A to F, 37 of the 57 economists – almost two-thirds – gave the budget an A or a B.
The proportion giving the budget top marks is far higher than for the COVID-era budgets of his Liberal predecessor, Josh Frydenberg, which attracted top marks from 41%[2] and 37%[3] of the experts surveyed.
The economists chosen to take part in the survey have been recognised by their peers as Australia's leaders in fields including macroeconomics, economic modelling, housing and budget policy.
Among those surveyed are a former head of the Department of Finance, a former member of the Reserve Bank board, and former Treasury, International Monetary Fund and Organisation for Economic Cooperation and Development officials.
Only one of the 57 surveyed gave the budget the lowest possible mark of F, and only three awarded it an E.
Ten of the experts qualified their approval by saying the budget should have done more to help vulnerable Australians suffering from higher rents and energy prices, including – but not limited to – Australians on JobSeeker.
Melinda Cilento, chief executive of the Committee for Economic Development of Australia[4], said while the increases in payments and support were "a good start", they didn't go far enough.
Consultant Nicki Hutley said even the promise of a staged increase in JobSeeker would have been better than "the miserly increase given".
Read more https://theconversation.com/economists-award-chalmers-top-marks-for-budget-but-less-for-fighting-inflation-203896