Open-plan office noise increases stress and worsens mood: we've measured the effects
Written by

Libby (Elizabeth) Sander, Assistant Professor of Organisational Behaviour, Bond Business School, Bond University
If you've ever felt your noisy open-plan office makes you cranky and sends your heart racing, our new research shows you aren't imagining it.
Prior to the pandemic 70%[1] of office-based employees worked in open-plan offices. Employee complaints about this design are rife[2].
Yet there is little experimental research[3] investigating the effects of office noise on things like cognitive performance, physiological stress and mood.
The results of our study[4], in experimentally controlled conditions using heart rate, skin conductivity and AI facial emotion recognition, shows the effects of that noise are very real.
We've found a significant causal relationship between open-plan office noise and physiological stress.
Our results show such noise heightens negative mood by 25% — and these results come from testing participants in an simulated open-plan office for just eight minutes at a time. In a real office, where workers are exposed to noise continuously during the day, we would expect the effects on stress and mood to be even greater.
How we simulated open-plan office noise
We used a simulated office setting with volunteers to compare the effects of typical open-plan office noise to a quieter private office on a range of objective and subjective measures of well-being and performance. Our carefully manipulated soundscapes included people speaking, walking, printing papers, ringing telephones, and keyboard typing noises.
Our study involved observing the same individuals "working" — participants were asked to complete a proof-reading task — under the two noise conditions. We varied the order of the sound tests to avoid bias due to fatigue and training effects. This "repeated measures experimental design" allowed[5] us to make causal conclusions about the effects of the noise on well-being indicators.
Read more: A new study should be the final nail for open-plan offices[6]
We used sensors to track changes in heart rate and sweat response — both reliable indicators[7] of physiological stress. We used facial emotion[8] recognition software to assess emotional responses. We also had participants self-report their own feeling using a mood scale[9].
Even after a short exposure, we found a causal relationship between open-plan office noise and both stress and negative mood. Negative mood increased by 25% and sweat response by 34%.
While there was no immediate effect on reduced work performance, it is reasonable to assume such hidden stress over the longer term is detrimental to well-being and productivity.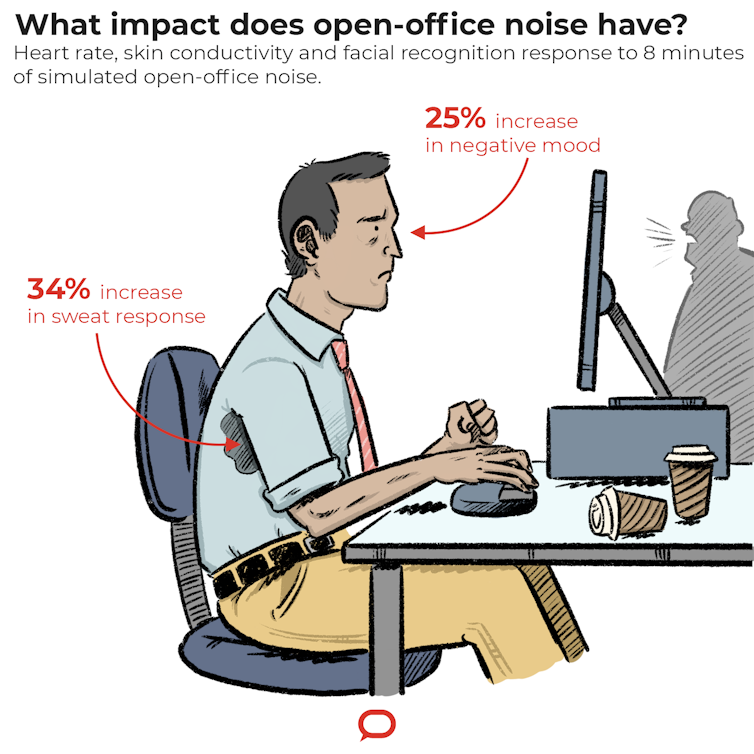 Authors: Libby (Elizabeth) Sander, Assistant Professor of Organisational Behaviour, Bond Business School, Bond University
Read more https://theconversation.com/open-plan-office-noise-increases-stress-and-worsens-mood-weve-measured-the-effects-162843